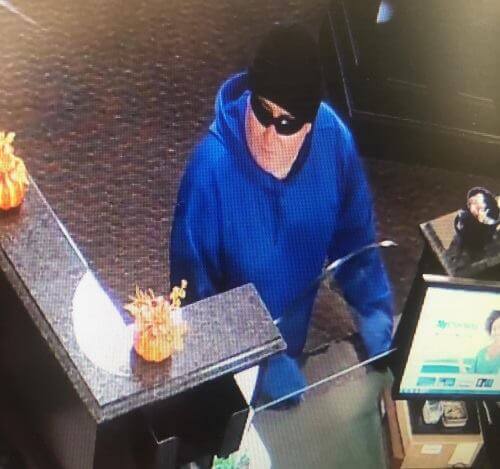 Bank Robbery Charges Loom in Somerset and Hunterdon County
According to information released by the Somerset County Prosecutor's Office, authorities from both Somerset and Hunterdon County as well as detectives from the FBI are actively looking for a suspect whom they believe may be responsible for several bank robberies throughout the State. The suspect, who is unknown at this point in time, is alleged to be responsible for at least three different bank robberies in New Jersey and one possible attempted robbery in Pennsylvania. The first alleged bank robbery took place back on the first of October in Franklin Township in Somerset County and it is believed that suspect did so after an unsuccessful attempt at robbing a bank in Bensalem Pennsylvania. It appears that the suspect then went silent for a few weeks but was back at it again this week. On October 23rd in Bridgwater Township and then again the next day in Flemington Township the alleged bank robber struck. It is unclear at this point in time what the total value of the of proceeds that the suspect was able to make off with. Some of the similarities that lead detectives in believing that the suspect is responsible for the series of bank robberies include not only the physical descriptions match but that the suspect apparently conceals his hands within the sleeves of his shirt during each robbery.
Is Bank Robbery a Federal Crime?
The suspect still remains at large, however, if he is eventually apprehended, it appears that the Federal Government, which is lead by United States Attorneys Office may have a major interest in prosecuting the cases. If that is to occur, the state prosecutor's offices from both Somerset and Hunterdon County will most likely not seek to prosecute the suspect. With that being said, they could if they wanted to. Double jeopardy rules would not apply here and both the Federal and State prosecutors would retain the ability to prosecute the suspect. The United States Attorneys Office would retain jurisdiction over what otherwise would be considered a state crime because the "victims" (Bank) in the case is federally owned.
Bank Robbery Charges in Somerset County
It is not clear from the information that has been released at this point in time whether or not a weapon or threat of deadly force was used. If a weapon or threat to use deadly force was made during the commission of the offense then the suspect would be facing first degree robbery charges. If not, the suspect will be facing second degree robbery charges. The difference between the two degrees is an additional decade behind bars. Anyone convicted of a first degree robbery in New Jersey would be facing a potential prison sentence ranging anywhere from ten to twenty years. Conversely, anyone convicted of a second degree robbery charge would be facing a prison sentence ranging anywhere from five to ten years. Both of these offenses would be subject to the No Early Release Act (NERA), which would require the individual to serve at least 85% of their sentence.
For more information on these robberies, please checkout nj.com's article labeled Did serial bank robber strike in N.J.? Recent heists appear to be connected.