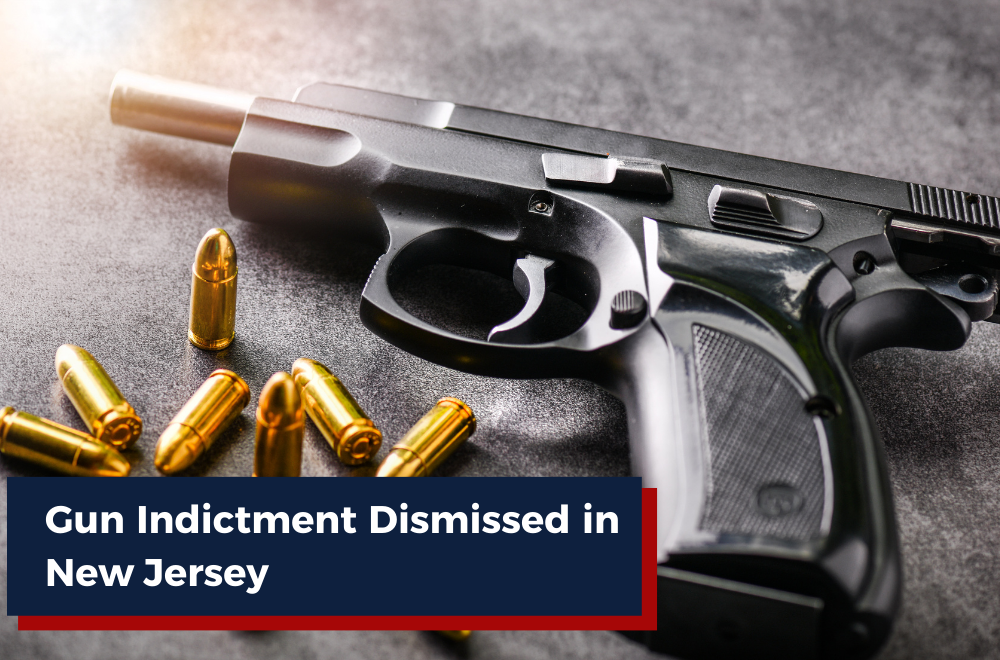 Client Avoids Mandatory Prison Following Dismissal of Gun Charges in NJ
Keith Oliver was able to secure the dismissal of an indictment for one of his client's earlier this month. His client was formally indicted by a Grand Jury on two counts of unlawful possession of a defaced handgun, two counts of possession of a high-capacity magazine, two counts of possession of hallow point bullets and one count of possession of a controlled dangerous substance. According to the arresting officer, the charges stemmed from what he described as a motor vehicle search following a routine traffic stop. Pursuant to the Graves Act, which applies to all gun related charges in New Jersey,  if his client was convicted of just one of the unlawful possession of a weapon counts, he would be facing a minimum of five years in a New Jersey State Prison with a forty-two month parole ineligibility. To make matters worse, his client was not a United States citizen. Therefore, any type of conviction would certainly lead to his deportation, which wouldn't occur until after he served his sentence. That meant that the only way in which his client could lawfully remain in this Country with his family would be if the charges were dismissed.
Once Mr. Oliver was retained by his client's family he immediately started mounting his defense. Fortunately he was able to secure his client release from jail on bail at his detention hearing. This allowed for his client to defend the case from the comfort of his home as opposed to being detained in the county jail without bail. Once his client was formally indicted Mr. Oliver was able to obtain full discovery, which included the police reports, Body-worn Camera footage as well as the MVR footage. It was obvious from the onset that his client's constitutional rights were repeatedly violated during what the officers claimed to be just a "routine traffic stop".
Defending Gun Charges in New Jersey
After his client was formally indicted on the charges Mr. Oliver was able to flesh out and litigate some of the issues in Court. It was apparent to Mr. Oliver that although the initial motor vehicle stop may have been constitutional, just about everything that occurred thereafter was not. Once the officers conducted the motor vehicle stop, they immediately began interrogating his client about what they claimed to be the odor of marijuana emanating from inside his vehicle. In addition to the unlawful, unmirandized interrogation, the officers then used the statements derived from that interrogation as well as the "odor of marijuana" to attempt to justify a search of his motor vehicle. This type of search is strictly prohibited now based on the decriminalization of marijuana in New Jersey.  The Attorney General issued a Memorandum, which in part states: "Finally, the odor of marijuana or hashish, either burnt or raw, by itself no longer establishes "reasonable articulable suspicion" to initiate a stop or search to determine a violation of a possession offense or a fourth-degree distribution offense." Therefore, the long standing practice of law enforcement using the "odor of marijuana" as a basis for probable cause to conduct a motor vehicle search is no longer permissible. Based on the repeated constitutional violations the Indictment was dismissed outright, with prejudice. This meant that the charges are completely dismissed.
Contact A Local Gun Defense Attorney in New Jersey
To successfully defend unlawful possession of gun charges in New Jersey it requires the ability to aggressively challenge the underlying search that led to the discover of the weapon. Most gun charges will rise and fall on the way in which the search was conduct. At Keith Oliver Criminal Law we pride ourselves on making sure every single aspect of the case is examined and challenged in a Court of law. As you can see from above these types of charges require not only a mandatory prison sentence but the imposition of a parole ineligibility period as well. If you have been arrested and our facing gun charges in New Jersey, in counties like Monmouth County, Mercer County, Somerset County, Hunterdon County or elsewhere, Keith Oliver Criminal Law can help. If you would like to set up a free initial in-person consultation, please contact our office at 732.858.6959.
State v. J.F-H. 2023