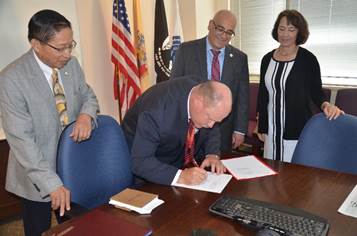 Trenton Teenager Arrested on a Loaded Handgun Charge
An eighteen year old male from Trenton, New Jersey was arrested earlier this week following what nj.com has reported was an unanimous tip. According to the information that has been released, Trenton police officers were investigating a tip about weapons being stashed at an apartment in the North 25 Housing Complex when the first came into contact with the Defendant. When the officers approached the complex, they claim that the Defendant and another male immediately fled the scene. It is unknown at this point in time what made the officers chase the individuals but when the dust settled, the Defendant was apprehended when he ran into a chain linked fence. A subsequent search of the Defendant revealed a loaded handgun. As a result, the Defendant was charged with one count of unlawful possession of a weapon. The other individual was searched as well and based on the officers not uncovering anything, he was not charged.
So, based on the facts, it seems as if the Defendant was simply arrested based on the loaded handgun that was found on his persons not the initial chase that took place. Which begs question, what is the legality of the "seizure" that took place and then the subsequent search. Did the officers have what is known as probable case to even chase after the Defendant? Did they have probable cause to seize the Defendant? Was the search that uncovered the handgun lawful? Will it be considered what is known as "Fruits of the Poisonous Tree"? If the seizure and/or search of the Defendant is determined to be unlawful, the handgun that was uncovered may have to be suppressed. For more information on suppression hearings in New Jersey, please feel free to contact our office at 609-789-0779. We can discuss the specific facts of your case and we will give you our honest feedback on how we think we can be of assistance.
Handgun Lawyers in Trenton, New Jersey
If you have been arrested and charged with a criminal offense like the unlawful possession of a weapon, aggravated assault, marijuana possession, possession of a weapon for unlawful purpose, eluding or any other offense for that matter in Mercer County, the Keith Oliver Criminal Law can help. At Keith Oliver Criminal Law, we are cognizant of what a criminal conviction let alone a lengthy jail term that would come along with an unlawful possession of a weapon charge can do to someone's life. Our attorneys serve all of Mercer County, including towns like Lawrence, Ewing, Hamilton, Trenton, West Windsor, East Windsor and Robbinsville. If you would like to discuss your options with one of our Mercer County criminal defense attorneys then please contact our Hamilton office at 609-789-0779.