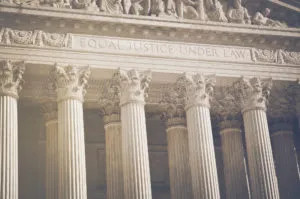 NJ Criminal Defense Attorneys Get Charges Downgraded & Dismissed in Monmouth County Courts
Are you facing criminal charges in Monmouth County, New Jersey? The experienced criminal defense lawyers at Keith Oliver Criminal Law have dedicated our careers to defending clients charged with criminal offenses and serious traffic violations such as driving under the influence (DUI). Having defended clients in Municipal and Superior Courts throughout Monmouth County and New Jersey for years, we have developed extensive knowledge of NJ Criminal Law and an arsenal of tactics that we use to get charges downgraded and dismissed for our clients on a daily basis. If you have a criminal case in Monmouth County, let us put our thorough investigation, deft negotiation, and highly effective defense strategies to work for you. Our commitment to you is this: we will do everything we can to deliver the best possible results. Call our local Monmouth County law office today at 732-858-6959 or fill out our online form to arrange a free consultation with a New Jersey criminal attorney who will answer your questions and discuss how to build your best defense.
How Our Attorneys Have NJ Criminal Charges Dropped & Reduced
Whether you have been arrested for a drug crime, are facing assault charges, have been accused of domestic violence, charged with theft or fraud, are facing sex crime allegations, have to go to court for a weapons offense, or are charged with a DWI, our defense team has the knowledge, practical experience, and zealous commitment you want on your side. After evaluating the specific facts of your case, we will develop the best approach to minimizing or helping you avoid the penalties you're facing entirely. Whether the best outcome can be achieved by negotiating a deal to reduce the consequences, getting your charges downgraded to a lesser offense, helping you get into Pretrial Intervention or Conditional Discharge, or beating your charges at trial, we will identify and execute the plan that serves your best interests.
Our lawyers know how to defend a vast array of criminal charges in New Jersey. The following are just a few real life examples of successful results we have delivered to clients arrested for criminal and DUI offenses, as well as those facing restraining orders and charges for domestic violence.
Assault Charges
Due to the nature of assault crimes, these charges are often issued in conjunction with a temporary restraining order. When dealing with both elements of a domestic violence case, you will need to appear for two distinct legal proceedings, one in criminal court and one in civil court. We defended this client against the restraining order and the serious assault charges he was facing, ultimately helping him avoid significant prison time and a final restraining order.
Theft Charges
Theft and fraud offenses are classified as "crimes of moral turpitude" in New Jersey, meaning a conviction could jeopardize your immigration status. In one of the cases below, our client needed us to successfully argue a post-conviction relief motion to keep him from being deported. Even when you are a permanent U.S. citizen, a theft crime can be devastating personally and financially, which is why we fight so hard to prevent these consequences for our clients.
Drug Charges
Drug crimes are quite possibly the most prevalent source of criminal charges in Monmouth County and New Jersey. When you are charged with a drug offense, you face a host of life-altering punishments, including fines, suspension of your driver's license, a criminal conviction on your record, and even jail time. We have helped thousands of clients arrested for drugs in cases like these:
Domestic Violence
A restraining order can change your life in so many ways, determining where you can go, where you can live, if you can see your children, and if you are allowed to possess a weapon for the rest of your life. Our attorneys fight for clients in domestic violence cases in criminal and civil court. Check out some of our recent restraining order case results.
Keith Oliver Criminal Law Helps Plaintiff Secure FRO in Monmouth County (K.B. v. D.A. (2019))
Temporary Restraining Order from Middletown Dismissed (M.R. v. J.L. (2019))
TRO issued in Atlantic Highlands Dismissed After Trial (J.G. v. J.G. (2021))
FRO from Millstone Township Vacated (S.S. v. V.F. (2021))
Temporary Order of Protection out of Union Beach Dismissed After Trial (S.A. v. A.A. (2021))
Weapons Offenses
When facing charges for an illegal firearm in New Jersey, you face a mandatory minimum term of incarceration. Even if you have no prior criminal record and have never had an interaction with law enforcement before, being arrested for a gun can land you in prison for years. Below is one case we handled recently where we assisted a client in avoiding incarceration for an alleged violation of New Jersey Gun Laws.
Driving While Intoxicated Offenses
Although driving while intoxicated / driving under the influence charges are technically considered traffic offenses in New Jersey, the potential sentences for those convicted can be more crippling than that of some criminal offenses. They can include but are not limited to loss of license, imposition of the ignition interlock device, high fines, community service, court mandated treatment as well as a jail sentence. Below is a couple of case we handled recently where we assisted a client in avoiding a conviction for driving while intoxicated.
Driving While Intoxicated Dismissed  (.09% BAC) State v. E.O. (2018)
Driving Under the Influence Dismissed (Heroin) State v. C.M. (2018)
DUI Dismissed (Marijuana) State v. A.D. (2019)
Driving While Intoxicated Dismissed (.13% BAC) State v. J.B. (2019)
DWI & Refusal to Submit Breath Sample Dismissed State v. V.C. (2019)
Driving While Intoxicated Dismissed (.14% BAC) State v. J.C. (2020)
DWI Charges Dismissed (.19% BAC) State v. D.M. (2020)
Driving Under Influence (Drugs) Dismissed State v. K.R. (2020)
Driving While Intoxicated & Refusal to Submit a Breath Sample  Dismissed State v. K.S. (2020)
Drug DUI Dismissed Outright State v. H.L. (2020)
DWI Dismissed (.11% BAC) State v. L.B. (2021)
Sex Related Charges
When facing a sex related charge, whether it be sexual assault, criminal sexual contact, aggravated sexual assault, possession of child pornography or lewdness in New Jersey, you could be facing not only a mandatory prison term but also serious life long collateral consequences. Those consequences include but are not limited too: Megan's Law Registering, Parole Supervision for Life and Community Supervision for Life. Below is some of the cases that we handled recently where we assisted client's in avoiding incarceration.
Aggravated Sexual Assault Charge, Subject to the Lunsford Act State v. R.L. (2018)

Downgraded to Criminal Restraint. Our client went from facing 25 Years to Life in State Prison to a 2 Years of Probation.

Sexual Assault Charges In interest of A.B. (2019)

Downgraded to Harassment. Our client went from facing 3 Years in Jamesburg, Parole Supervision and Megan's Law Registering to a 1 Year term of Probation.

Attempted Aggravated Sexual Assault State v. M.K. (2020)

Downgraded to Criminal Sexual Contact. Our client went from facing up to 20 Years in State Prison to 5 Years of Probation. No Megan's Law Registering, No Parole Supervision, No Community Supervision.
How Can we Help with Your Criminal Case in New Jersey?
Our local criminal defense law firm in Monmouth County is prepared to defend you against any type of criminal, domestic violence, or DUI accusation. With a practice dedicated to cases like yours, we have the experience and dedication you want in your corner when your freedom and your future are on the line. Contact our office in Middletown today at 732-858-6959 for additional information. Consultations are always provided free of charge.