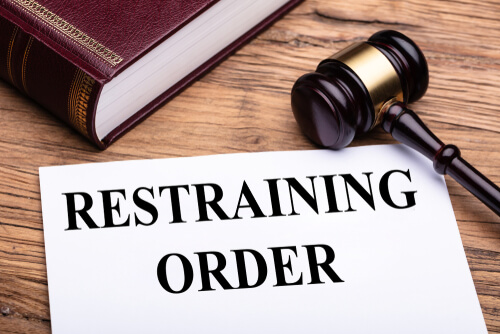 Keith Oliver Criminal Law is happy to announce that they were able to secure another dismissal of a temporary restraining order (TRO) for one of their clients, this time in Mercer County. The victim in this case was our client's wife of two years. She alleged in her TRO that she had been continually harassed by our client via emails, text messages and phone calls for the previous month about various different things. Also, she had indicated that he has been harassing in the past and that most of their verbal arguments took place in front of the children. As a result of the TRO being issued, our client was removed from the marital home pending the final restraining order hearing. In the interim, the victim also filed for divorce.
Restraining Order Defense Lawyers Near me in Hamilton NJ
Once our client was able to provide us with a complete copy of his phone records, text messages and emails, it became apparent that the victim in this case had embellished, to say the least, at lot of the specific incidents that she told the judge to obtain in the TRO. In addition, we found out that once she received the TRO she returned to the residence, knowing our client would be there and remained in his presence until the police arrived hours later to notify him and serve him with the TRO. Geared with this information, we started to prep for the final restraining order hearing.
In New Jersey, once a TRO is granted and the Defendant is served with it, a formal final restraining order (FRO) hearing will be set. These are in essence mini-trails, whereby the victim will be called upon to testify and present witness on their behalf. In addition, they will be subject to cross-examination as well. During this hearing, it is the victim's burden to establish by a preponderance of the evidence the following:
That they qualify as a "victim" of domestic violence, which includes any of the following:

A spouse or any other person who is a present or former household member of the Defendant; or
Someone who has a child in common with the Defendant; or
Someone who is and/or was in a dating relationship with the Defendant.

That they are the victim of an "act of domestic violence", which includes any of the following acts:

Homicide, Assault, Terroristic Threats, Kidnapping, Harassment, Criminal Trespassing, Criminal Restraint, False Imprisonment, Sexual Assault, Criminal Sexual Contact, Lewdness, Criminal Mischief & Burglary.

In order to protect the safety of the victim and prevent future acts of domestic violence, a final order of protection is necessary.
For more information on What Proof is Required for an FRO in NJ, please click the link. 
Our client was adamant from day one that the allegations made by the victim were totally misrepresented to the court in the first place to even obtain the TRO. Furthermore, the evidence provided by our client painted a totally different picture then the victim's allegations. After going over the evidence and discussing the matter with opposing counsel, the victim decided to withdraw the temporary restraining in lieu of going forward with a final restraining order hearing. Fortunately for our client he was able secure a dismissal of the temporary restraining order and return to his home. This was a tremendous benefit as our client a final restraining order would have certainly cost him his job.
Mercer County Restraining Order Defense Attorney
If you or a loved one has been charged with an act of domestic violence like assault, harassment, terroristic threats, stalking or served with a restraining order in Mercer County, the Keith Oliver Criminal Law can help. We serve all of Mercer County, including Hamilton, Ewing, Lawrenceville, West Windsor, East Windsor, Princeton, Hightstown and Robbinsville. To speak to one of our domestic violence defense attorneys today, then please contact us at 732.858.6959 or you can try contacting us online.
G.T. v. J.T. (2018)