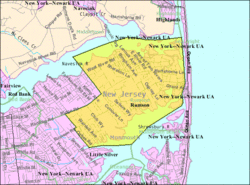 Rumson NJ Criminal Defense Lawyer
Rumson, which is well known to be one of the more affluent towns in all of New Jersey, is not immune to its fair share of crime. Anyone arrested and charged with a disorderly persons offense, petty disorderly persons offense, borough ordinance or traffic offense, including driving while intoxicated will be forced to litigate their charges in the Rumson Municipal Court, which is located at 80 East River Road. If an individual is arrested and charged with a more serious offense, like an indictable offense, which is New Jersey's version of a felony, those charges will be sent to the Monmouth County Superior Court, which is located in Freehold for disposition. If you have unfortunately found yourself in this situation, the Keith Oliver Criminal Law can help. Our office, which is located just up the road in Middletown, has been defending those accused of crimes in courts throughout Monmouth County for the better part of the last decade. If you would like to schedule a free initial consultation today, then please contact us at 732.858.6959. Our attorneys are available 24/7 to help assist in anyway possible.
Do I Need a Lawyer if I Need to Appear in the Rumson Municipal Court?
As touched upon above, the Rumson Municipal Court has what is known as original jurisdiction over all disorderly persons, petty disorderly persons offenses, borough ordinances and traffic offenses that occur within in the borough's borders. Some of the most common criminal offenses litigated in the Rumson Municipal Court include simple assault, possession of marijuana, disorderly conduct, resisting arrest, harassment, trespassing and criminal mischief. These are all very serious offenses and if convicted, a Defendant could be facing up to six months in jail, a $1,000 fine and permanent criminal record. If you have been charged with any of the aforementioned offenses or any other offense for that matter, we strongly urge that you contact an experienced Rumson criminal defense attorney as soon as possible.
Rumson Municipal Court Contact Information
Location:
80 East River Road, Rumson New Jersey 07760
Court Schedule:
Second and Fourth Wednesdays at 5:30 p.m.
Hours of Operation:
8:30 a.m. to 4 p.m.
Phone Number:
General Information – 732.530.7131 & Fax: 732.530.7150
Chief Judge:
Honorable Nicole Sonnenblick J.M.C.
Prosecutor:
Anthony Vecchio, Esq.
Court Administrator:
Michele Smailze C.M.C.A.
Need Directions to the Rumson Municipal Court
What to Know About Rumson Borough
Rumson Borough is located in the northeastern section of Monmouth County. It is located directly on the Navesink River, which only makes this already sought after town more desirable. Furthermore, its quick easy access to New York City makes it an even more desirable location for those looking to leave the hustle and bustle lifestyle that New York City offers. For more information the Borough of Rumson, please click link.
Rumson NJ Criminal Defense Lawyer
Keith Oliver Criminal Law is a Monmouth County based criminal defense firm, comprised of attorneys who have dedicated their entire careers to defending those accused of crimes including but not limited to aggravated assault, heroin possession, cocaine distribution, burglary, theft by deception and temporary restraining orders. Our attorneys are well aware of what a criminal record let alone a jail sentence can do to someone's life. As such, our attorneys are dedicated to aggressively challenging the evidence presented against you in order to obtain a favorable outcome. To set up a free initial consultation today, please contact our Middletown office at 732.858.6959.