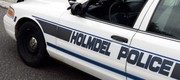 According to nj.com, the Holmdel Police Department arrested and charged a thirty-six (36) year old female from Middletown with among other things, driving while intoxicated. It appears that the Defendant was involved in a minor motor vehicle accident on Route 35 in Holmdel just before 3 pm yesterday. Upon getting into the fender bender, the Defendant quickly fled the scene and pulled into the Holmdel Town Center parking lot. A short time later the Holmdel Police Department arrived on scene and confronted the Defendant. At that point in time the officer claimed that they noticed the Defendant's speech was slurred, to the point that "she was almost unintelligible". Based on their observations, the Defendant was asked to perform the Standardized Field Sobriety Tests (FSTS), which she failed. To make matters worse, the Defendant's four (4) year old child was inside the motor vehicle at the time of the crash. The Defendant was placed under arrest and charged with driving under the influence, leaving the scene of an accident, careless driving and endangering the welfare of a child.
Endangering the Welfare of a Child Charges
Since the child in question is the Defendant's, the endangering the welfare of a child will be considered a second degree felony offense and must be transferred to the Monmouth County Superior Court for disposition. This is a serious criminal offense, one that if not handled properly could land a Defendant behind bars for up to a decade. In addition, since their is accompanying felony criminal charges, the driving while intoxicated offense will be transferred up to the Monmouth County Superior Court as well. Normally, all traffic matters, including driving while intoxicated offenses, will be litigated in the local municipal court, in the municipality where the incident occurred, in this case the Holmdel Municipal Court. The Defendant was taken to the Monmouth County Jail pending a pretrial service interview. If the prosecution seeks to detain the Defendant in the Monmouth County jail, without bail, pending trial, they must file for a Detention Hearing. At this hearing, it will be the prosecutions burden to establish by clear and convincing evidence that in order to protect society, assure the Defendant's appearance in court and/or to prevent them from obstructing the prosecution of their case, they must be detained without bail. For more information on detention hearings and endangering the welfare of a child charges in New Jersey, please feel free to contact our Middletown Office at 732.858.6959.